Born in Utrecht in the Netherlands in December 1918, Gerardus Dusseldorp was known as Dik as a child, the anglicised version of which stuck with him for the rest of his life. At the age of 15, he enrolled as a marine cadet, with the aim of becoming a captain in the merchant marine. He was found to be colour blind when he sought entry into officer training and withdrew from the service. During World War II, as a Dutchman of working age, he was deported to Berlin, to work as forced labour. Returning to the Netherlands, he secured work with a Danish firm building a railway from Copenhagen to Hamburg. In late 1943 he was transported to Kraków, again as forced labour but this time for the Siemens Organisation. In Summer 1944 he escaped with his wife and four year old daughter, and returned again to the Netherlands.
In 1945 he and his younger brother Hank secured jobs at Bredero's Bouwbedrijf, a Dutch housebuilder established in the 1870s. By 1947 he had been promoted to Construction Manager. In March 1951 Bredero's sent him to Australia to seek out business opportunities. He identified a project to build workers' housing in the Snowy Mountains Scheme, the largest infrastructure project to have been attempted in Australia. He came to Australia with £10,000 and a handful of Dutch workers on the contract to build 200 houses for the Snowy Mountains Authority at Cooma.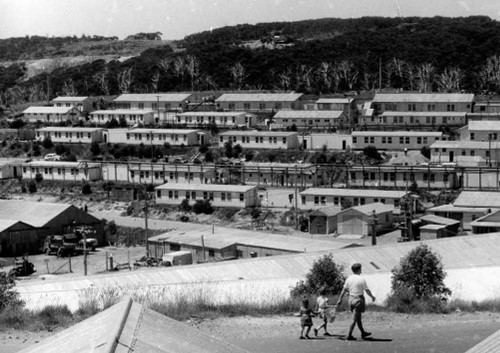 In 1957 he established Civil & Civic, as a subsidiary of Bredero's. The success of which was based on the principle that the designer should be employed by the contractor rather than the other way round. In that year he won the contract to build the first stage of the Sydney Opera House while completing Sydney's first concrete-framed skyscraper – Caltex House. The Sydney Opera House brought huge prestige, along with the equally huge challenges of building a unique and difficult structure on a point of reclaimed land.
The next year Lend Lease Corporation was publicly launched; an innovative corporate vehicle to fund Civil and Civic projects. The paid-up capital of the company in that year was £100,000.
For the next 30 years Dick Dusseldorp built Lend Lease Corporation into one of Australia's most successful construction, real estate, and financial services companies.
Dick left his mark on Australia's urban landscape through the construction of some of the country's landmark buildings including Australia Square with its distinctive round shape and unprecedented public forecourt space, the MLC Centre, Brisbane's Riverside Centre, and Canberra's Academy of Sciences.
Consistently decades ahead of his time, Dick negotiated the first productivity agreement with the NSW building trades unions in the 1950s, extended superannuation and a range of other employment benefits to blue-collar workers in the 1960s and pioneered the indenturing of apprenticeships through Group Training Companies.
He introduced profit-sharing via employee share ownership in the 1970s and championed a range of initiatives to promote the skills formation of young people in the 1980s and beyond.
When he retired as group Chairman in 1988, the capitalised value of Lend Lease Corporation stood at $1.4 billion, and its employees numbered 6,000.
In recognition of his service to industry and commerce, Dick was awarded an A.O. (Hon.) on Australia Day in that Bicentennial Year. To mark the occasion of his retirement, Lend Lease employees and shareholders voted to establish an independent foundation in his name; the Dusseldorp Skills Forum was formed "to benefit the Australian community by stimulating innovation and educational developments." His son Tjerk initially served as the Forum's Executive Director while Dick was Chairman.
A year before his death he finally agreed for Tjerk to produce the book: Finding a Common Interest – The story of Dick Dusseldorp and lend lease.
Tjerk Dusseldorp's early experiences as a young man in the United States drew him to his life's work in the not-for-profit sector. Tjerk, also known as Jack, worked as a documentary filmmaker in America in the 1960s against the political backdrop of the Vietnam War. Imbued with a desire to address social injustice, Tjerk returned to Sydney with his young family taking up the role of the first Executive Director of the Evatt Foundation.
Marta Dusseldorp (born 1 February 1973), Dick's granddaughter is an Australian stage, film and theatre actress. Her television credits include BlackJack, Crownies (and its spin-off Janet King), Jack Irish and A Place to Call Home.
Sources: Wikipedia and company information from Lend Lease and Workskill.
Paul Budde (2021)
I had the honour to meet Dick once in the mid-1980s when I produced for Civil & Civic and Lend Lease their first online information system (Lendtex).