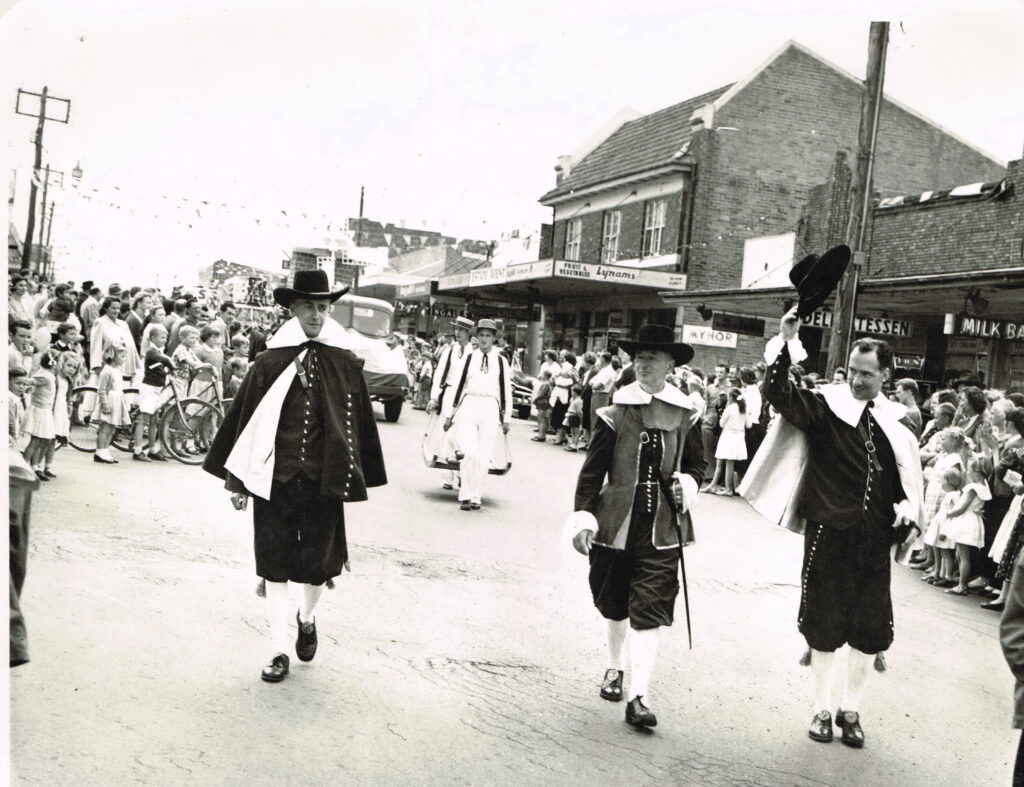 Dr. Cornelis Wouters was the founder of the Dutch Folk Dance Group, a group of over 30 enthusiastic Dutch immigrants (later joined by Australians who married Dutch immigrants). They performed folkloric dances at charitable association gatherings. No other group could boast such original national costumes, as all Dutch regional costumes are represented.
When he retired to the Netherlands in 1974 his heart was still with the Folk Dance Group in Australia, as he wrote: "If possible, I will try to obtain a real marksman's costume, preferably two, one for the Dutch Folk Dance Group and one for the Boomerangs." (The Boomerangs are an association of Limburgers who, among other things, organised an annual carnival celebration and were involved in the preservation of Dutch folk festivals.)
The Dutch Folk Dance Group provided its assistance voluntarily.
At the 20th anniversary commemoration of the Dutch Folk Dance Group held in 1971, the foundation was laid for the establishment of a cultural centre. There was also interest from the Australian side for this. It would still take more than a decade before this was realised in the form of the Dutch Australian Cultural Centre.
For more information see the information on the history of the Dutch Folk Dancing Croup in the pdf below.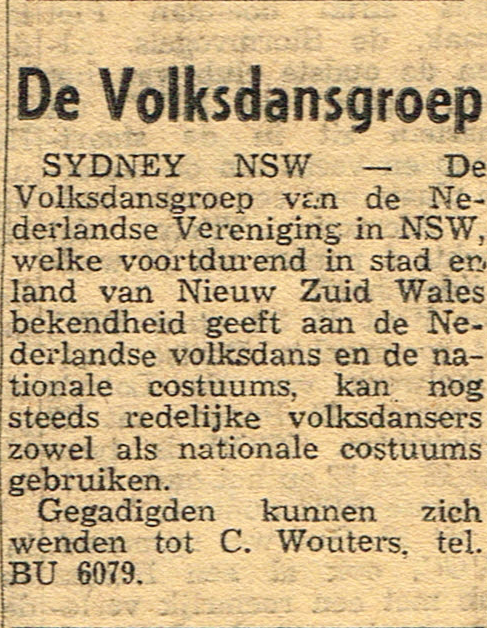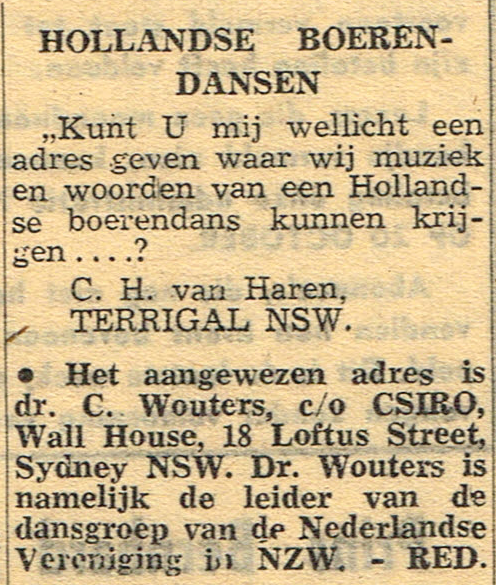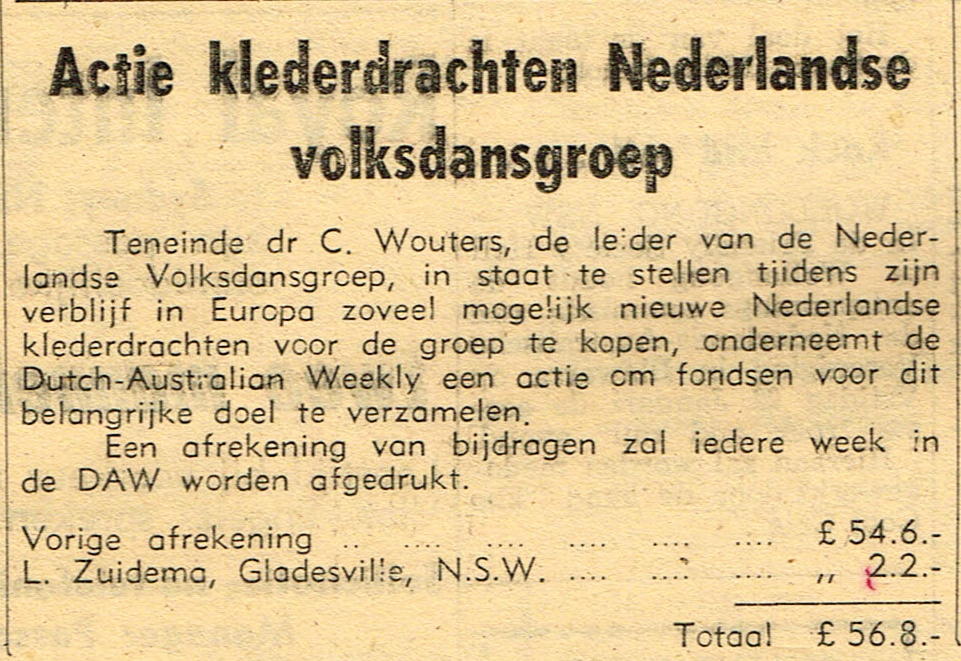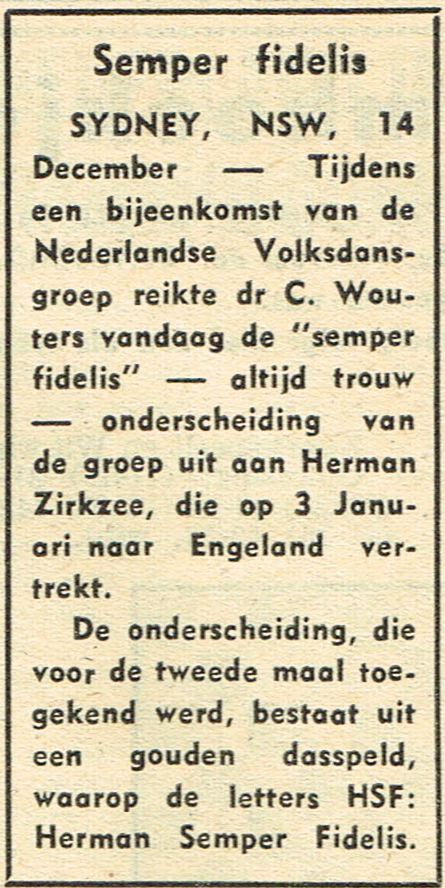 Herman van Zirkzee was the musician and he send us the following email.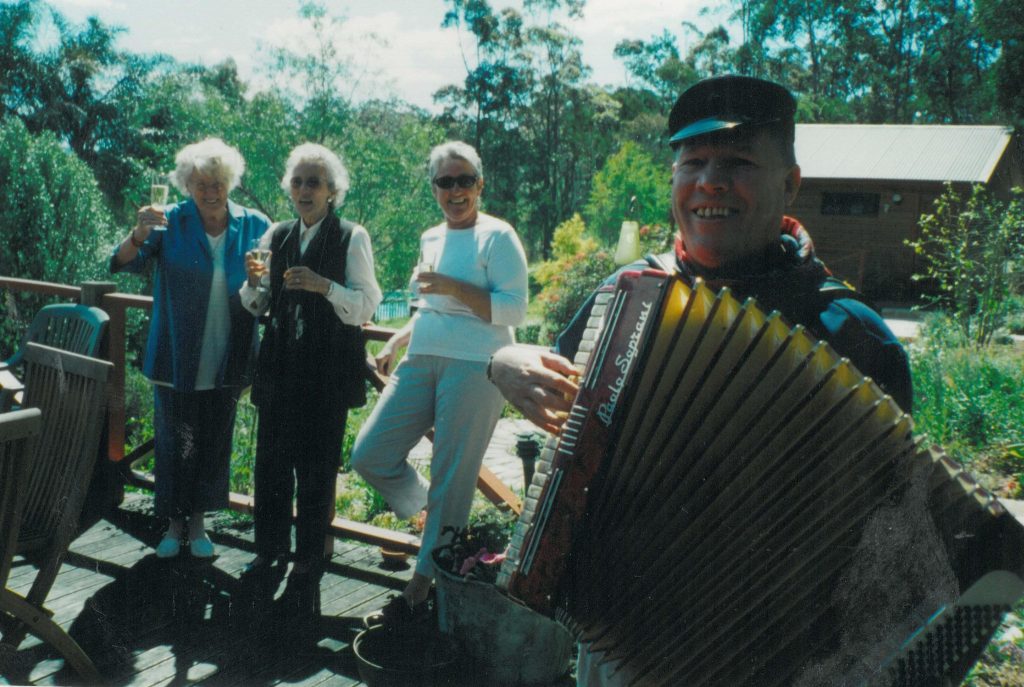 I read through the DFG history and noticed a couple of brief details (written by me at the time) of its history. I was their musician for a few decades and have seen many generations of dancers come and go. There were marriages and the abundance of offspring enabled the group to divide into seniors, maxi`s and mini`s, three dance groups in other words.
We aimed at buying or copying Dutch regional costumes as authentic as possible. Apart from folk dancing we also had many social activities including weekend camping at Kiama for instance and participating in soccer events organised by the Dutch Federation.
Dr Wouters was our patron, followed by Mrs Wouters and then their son Jan Wouters for many years.
May 1923