Being the 2nd largest export of agriculture products, The Netherlands has a very long relationship with Australia in relation to agriculture. Already in the 1970 the Netherlands participated in agriculture events in Orange NSW.
Further down below is an article from the Washington Post providing an overall state of the art overview of the agriculture business in the Netherlands. In the post we will follow more recent agriculture developments between the Netherlands and Australia.
Challenges and opportunities in sustainable food systems and the UN Sustainable Development Goals (SDGs) as a window of opportunity (2022).
Leaders from the Netherlands and Australia explored drivers and enablers of transition to more sustainable and circular food and agriculture practices, at a webinar organized by Consulate General in Sydney and KPMG Australia. Four speakers inspired about innovative ways to shape a framework that enables and incentivises sustainable business, in order to regenerate our earth systems while also tackling major global environmental and social challenges concluded in the SDG's.
The Consul General welcomed from the Netherlands Prof Jan Peter Balkenende, Chairman of the DSG Coalition and former prime minister of the Netherlands, Hester Maij, corporate director public & quality affairs at the Friesland Campina (member of the DSGC). The DSGC is a CEO led coalition of eight Dutch multinationals, a.o. Friesland Campina, chaired by Jan Peter Balkenende. All eight DSGC multinationals are actively contributing to the 17 SDG's and advocate sustainable growth in business.
From the Australian side they welcomed Hon Niall Blair, executive director of the Regional Circularity Cooperative and former NSW Minister for Primary Industries, Trade, Industry and Water, and Barry Irvin AM, Executive Chairman of ASX listed Bega Cheese and Chairman of the Regional Circularity Cooperative. Dr Michele Allan, Chancellor of Charles Sturt University drew out specific focus points in a facilitated Q&A session on the challenges of adopting circular and sustainable ways of working.
The Regional Circularity Cooperative brings together industry, community, research and government organisations to enable the transition of regions, such as Bega Valley, to become more circular in their use and management of resources. The ambition of the Regional Circularity Cooperative is to improve regional resilience and accelerate the decarbonisation of supply chains and improve biodiversity recovery, through delivery of key projects and upskilling community members. More information can be obtained from info@begacircularvalley.com.au
All speakers shared their enthusiasm for benefits and ways to implement sustainable food systems.
The event delivered a valuable entrée to the KPMG AgriFood and Internet of Farms Traction mission to the Netherlands in June 2022. This mission brought 42 Australian business, government and research leaders from the Australian agriculture food sector to the Netherlands to explore insights and links on circular agriculture, decarbonisation and digital innovation.
The continued collaboration between NL and AUS stakeholders in the sector will aid in creating a more sustainable agriculture and help to improve food systems in both countries.
High-tech agriculture discussions in Western Sydney (2021)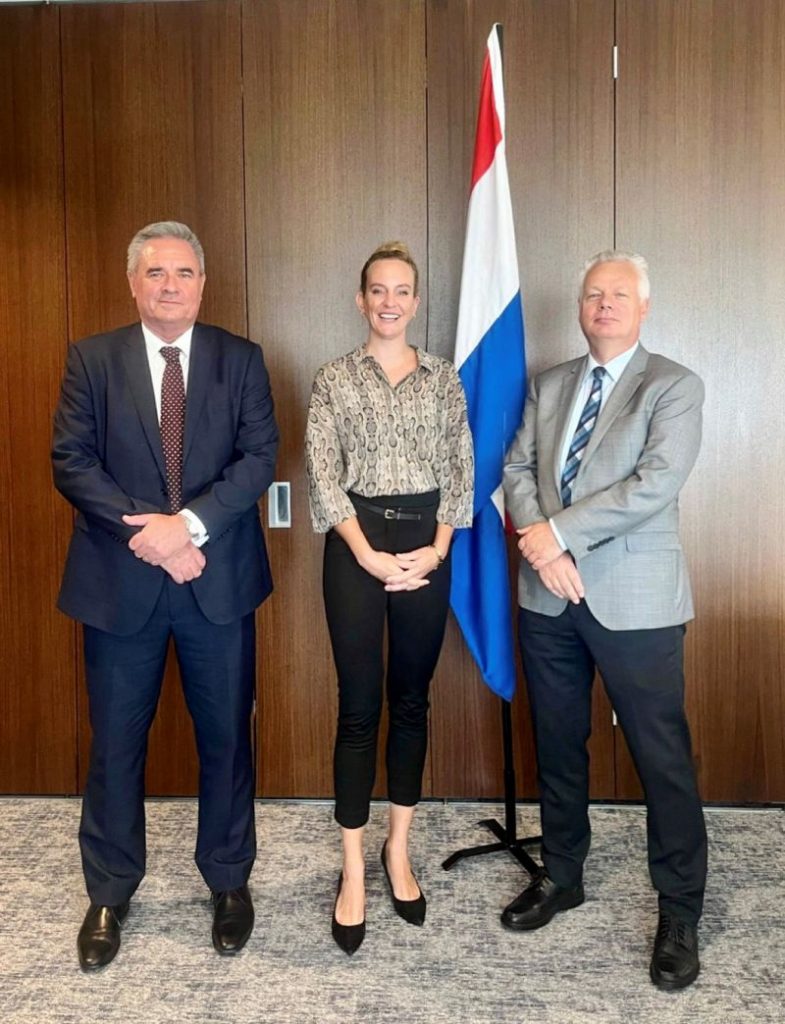 In 2021 Frank Van Beuningen, Consul General of the Kingdom of the Netherlands met with Stephen Cartwright OAM, NSW Agent General to UK, EU & Israel and Nicoline van Cann, Senior Associate of Global Markets at Investment NSW (picture to the right).
They discussed developments in sectors of strategic importance in New South Wales – including green hydrogen, high tech agriculture, circular economy, fintech, the Western Sydney Airport development and supporting small-medium enterprises to expand internationally. New South Wales and the Netherlands enjoy a strong economic relationship covering two-way trade and investments.
The Washington Post had an excellent article on the success of Dutch agriculture and its used om new technologies (November 2022).
https://www.washingtonpost.com/business/interactive/2022/netherlands-agriculture-technology/?itid=hp-top-table-main_p001_f003

The rallying cry in the Netherlands started two decades ago, as concern mounted about its ability to feed its 17 million people: Produce twice as much food using half as many resources.

The country, which is a bit bigger than Maryland, not only accomplished this feat but also has become the world's second largest exporter of agricultural products by value behind the United States. Perhaps even more significant in the face of a warming planet: It is among the largest exporters of agricultural and food technology. The Dutch have pioneered cell-cultured meat, vertical farming, seed technology and robotics in milking and harvesting — spearheading innovations that focus on decreased water usage as well as reduced carbon and methane emissions.

The Netherlands produces 4 million cows, 13 million pigs and 104 million chickens annually and is Europe's biggest meat exporter. But it also provides vegetables to much of Western Europe. The country has nearly 24,000 acres — almost twice the size of Manhattan — of crops growing in greenhouses. These greenhouses, with less fertilizer and water, can grow in a single acre what would take 10 acres of traditional dirt farming to achieve. Dutch farms use only a half-gallon of water to grow about a pound of tomatoes, while the global average is more than 28 gallons.

More than half of the land in the Netherlands is used for agriculture. The Dutch often say their singular focus on food production is born of the harrowing famine the country experienced during World War II. But it could be argued that the preoccupation with food began in the 17th century, when the Dutch were at the center of the global spice trade.

Their centrality in global food exploration is indisputable: Fifteen out of the top 20 largest agrifood businesses — Nestlé, Coca-Cola, Unilever, Cargill and Kraft Heinz — have major research and development centers in the Netherlands.

With their limited land and a rainy climate, the Dutch have become masters of efficiency. But there are challenges: The greenhouse industry has flourished in part because of cheap energy, but Western Europe is facing soaring gas prices. And the country's intensive animal agricultural practices are also at risk. This summer, a conservative government coalition pledged to halve nitrogen emissions by 2030, which would necessitate a dramatic reduction in the number of animals raised in the country. Farmers and ranchers have protested, and it remains to be seen how this standoff will be resolved.

Dutch companies are the world's top suppliers of seeds for ornamental plants and vegetables. There is an area in the northwest called Seed Valley, where new varieties of vegetables and flowers are in constant development. Enza Zaden is headquartered here, just north of Amsterdam.

In three generations, Enza Zaden has evolved from a family-owned seed shop into a global market leader in vegetable breeding, with more than 2,500 employees and 45 subsidiaries in 25 countries.

Jaap Mazereeuw, Enza Zaden's managing director, said the company spends $100 million annually on research, introducing about 150 new vegetable varieties each year.

"We are very much a research company," he said. "With climate change, we are seeing the weather becoming more extreme. We're looking at resilient varieties, seeds for organic farms as well as varieties that are more salt tolerant for places where water quality is not good. We need to find solutions for subsistence farmers all the way up to large-scale farmers."

"We have our own indoor farm here where we develop the varieties of the future, crops that can grow quickly and be harvested quickly: lettuce, herbs, leafy crops. The genetics can be improved, as well as the whole technology — indoor farming will only become cheaper. It's still early days for the industry," Mazereeuw said.

Other sources and information