The "Pulk" (which was originally N5-131 a B-25C – the first mass-produced B-25 version) from No. 18 (NEI) Squadron – a Netherlands East Indies / RAAF composite squadron.
The original "Pulk" was named after the Dutch B-25 pilot, Fred "Pulk" Pelder (this nickname was given to him by his best friend Fridjof Olsen in Holland during High School, due to his tinkering (pulking) with mechanical devices (cars, radio's, motorbikes) to improve performance)
He was credited with directing the rebuild of a severely damaged military Lockheed L212 training aircraft including grafting on a replacement tail and adding extra fuel tanks, to escape the advancing Japanese forces. Fred as the pilot in command and his crew took off on the 9th of March 1942 at Pameunpeuk via Medan and Lho Nga. He then finally landed in Colombo, Ceylon (now Sri Lanka) Here he met his best friend Fridjof again who flew Spitfires for the RAF. After some delay they both went to the 18th NEI Squadron/RAAF in Australia.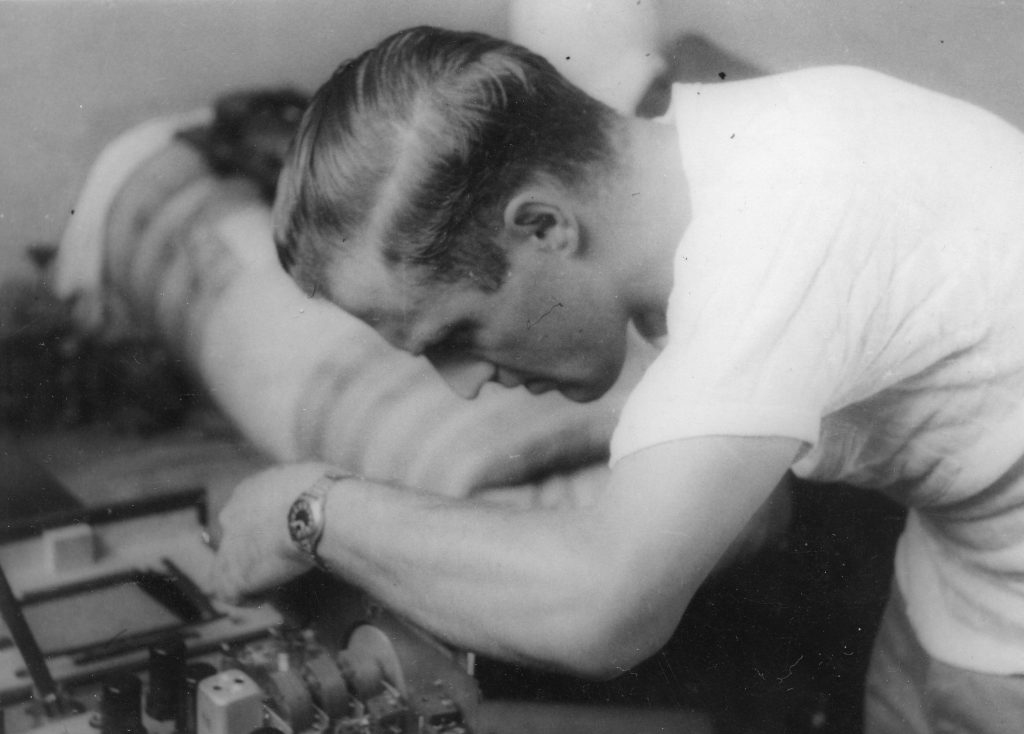 Fred aka Pulk, remained with the ML-KNIL until the handover to the Indonesian nationalist forces in 1949 and then he returned "home" to the Netherlands with his wife and their first-born child. Fred died at the age of 82 on the 19 September 2000. He left a wife and 5 children behind.
Mr Fred "Pulk" Pelder was Posthumous rewarded by the Dutch Military attaché, Col. H. Jacobson on the 10 April 2017 at Parafield Airport in South Australia, with two medals: War and Peace and Martial action. These were handed to his son also named Fred.
After the war the name of the plane was used to monitor coastlines in the USA and its registration was changed to B-25J (s/n 44-31508). Next she was purchased by Jeff Hawkes who flew her to England where it was modified to be used as the camera ship for the battle of Britain movie.
She returned to the USA and restored to flight using the name Chapter XI, the lucky lady (that applies on some of the pictures of the plane at that time) was applied for an old spice commercial, but that name was never officially used that name.
There were years of ownership and legal disputes and the plane had been sitting out in the open in a neglected state and missing an engine in Virginia, USA since 1999, until sold in 2014 on eBay (it had been regularly flying in the 1960's and 1980's to 1990's but was in poor condition and grounded by 1999)! The new owner just wanted it for some parts and Peter Smythe (Reevers Warbirds) who had missed out on the original sale were contacted and purchased the remaining air-frame in 2015 and had it shipped to Australia.
It is now undergoing a severe restauration by Reevers Warbirds in South Australia at Parafield Airport, Adelaide.
Thanks to Peter Smythe and Fred Pelder jr for their assistance
Reevers Warbirds video of the restoration of the Pulk (video credits Fred Pelder jr)
Click here for more information