There are several memorials in Australia that mention the activities of Dutch submarines in the Australian waters. These submarines played an import role during the Battles of Singapore and Malaya. In the first few weeks of the was in the East they sank more Japanese boats that the Brits and Americans combined.
After the occupation of Netherlands East Indies by the Japanese most of the surviving submarines (as well as other Dutch navy and merchant ships) ended up in Australia as they could neither go back to NEI or Netherlands.
During the remainder of the war, they operated in the Indian Ocean under British Command and in the South West Pacific under American Command.
They also played a key role for the Netherlands Forces Intelligence Service (NEFIS) in secret spy missions in NEI and Dutch New Guinea.
Click here for an extensive history of the Dutch Submarines operating from Australia during WWII
There is an interesting story of one of the Dutch submarine that ended up Luna Park in Sydney.
The submarine HNLMS K-XII was used for NEFIS patrols until June 1943, the submarine K-XII had been become so unserviceable that it was relegated for use as a target ship for training for the Admiralty's Anti-Submarine Division (ASDIC) by Allied planes and ships. These exercises further damaged K-XII. On 22 March 1944, the submarine sailed from the main submarine port of Fremantle to Sydney to await its fate.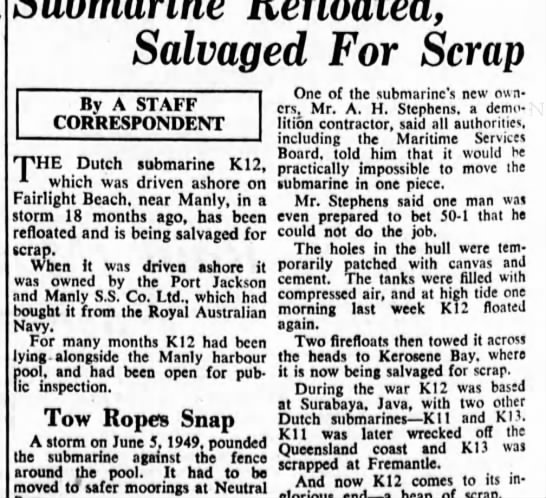 In September 1944, K-XII was stricken from the RNN list and sold to Australian businessmen who wished to use the submarine at Luna Park, Sydney. K-XII became an attraction, with the public paying to look through its periscope and inspect its engine room. Only one of its two engines was salvageable and, with the submarine's generator, they were used for emergency lighting at Luna Park.
After a storm in June 1949, the sub was towed to less exposed waters but the towline broke and the sub drifted ashore at Fairlight. It remained there for 18 months before being salvaged and cut up for scrap in 1951.