Hans and (Luberta) Beppe Goote migrated from Indonesia to Australia in 1956 after Indonesia nationalised all Dutch assets. The Goote family worked on a Dutch-owned tea plantation in Indonesia.
They had the following children: Henny, Meika, Josje, Hans (jnr) and Conny. That is oldest to youngest. Hans (snr), Beppe and Henny have all passed away (2022).
During their time in Wacol between 1957 and 1958 Beppe took an active role in the Wacol Community, which earned her the title of 'mayor'. At first she was appointed the representative for the women, and then the Director of the Camp asked her to organise the Camp for the Queen Mother's visit to the Centre in February 1958.
At the Camp they befriended the family Smit. Yvonne Weston nee Smit send me the following photos, they are made by her father Adrianus Smit.
Henny Goote (standing) with Yvonne in her arms and her sister Meika Goote (sitting).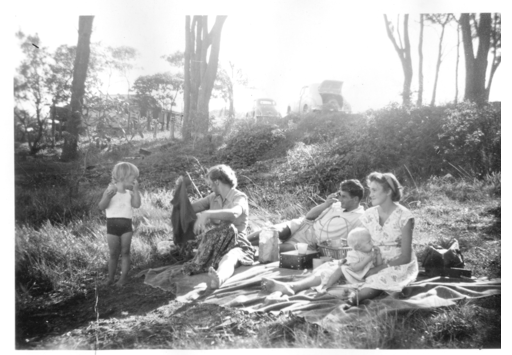 The Gootes moved to Cleveland-Redland Bay Road in Victoria Point where they farmed for many years. The Smits also moved to Victoria Point. Both families remained friends for many years until Hans and Beppe Goote moved out of the Redlands.
The State Library of Queensland conducted an interview with Beppe for their Migrant Women Oral History archives.
https://www.slq.qld.gov.au/blog/conflict-torn-indonesia-wacol-migrant-greets-queen-mother